Walking to the post office
Jump to navigation
Jump to search
On 30 July 2018, Chris tweeted a series of videos of himself walking to his local post office.[1] He requested his true and loyal fanbase to edit them together in a compliation to the song "I'm Walkin'" by Fats Domino. Using landmarks and street signs in Chris's videos, the exact walking route he took can reasonably be inferred. The entire trek was nearly three hours long as Chris walked 8 miles [12.9 km] to and from his destination.
According to his Fitbit, Chris accumulated 23,000 steps on this day. If true, it means he had walked just under 11 miles (18 km)[2] in total—which is quite possibly the most exercise Chris has gotten in his entire life. Though Chris was visibly tired by the time he reached the post office, this remains a rare example of where the fatigue from such exertion is actually warranted, a far cry from Chris's struggles to run more than a few tens of metres at a time in the filming of Sonichu's Edge several years prior.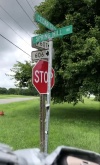 Walking to the post office
Notably, Chris smugly scoffs at drivers for not being able to appreciate the overgrown roadside like he can by walking (as opposed to driving); referring to them as "spoiled children". Chris finds a run-over stray dog, referring to it as "Street Pizza". Chris also points out the garage where he dropped off Son-Chu.
Transcript
0:00 - 0:16 [Singing] I'm walkin'. Yes indeed I'm walkin'. By you and me, I'm walkin. Na-na-na na na na na na, dada-bum bada-bum bada-bum bada-bum. I'm walkin'. Yes indeed I'm walkin.' By you and me, I'm walkin. Na-na-na na na na na na! [Chris exhales sharply.]
0:28 - 2:09 [Numerous short clips of Chris walking on a pavement through various locales, including along a quiet main road, a suburban neigbourhood and on a grass verge next to light traffic. Chris belches at numerous points along the way.]
2:09 "Still walkin'."
2:09 - 4:11 [Chris continues on his way, with a sequence of short clips showing him walking across the entrance to a small strip mall's parking lot, then on to a verge next to a busy intersection. Chris then begins walking down the side of another quiet main road.]
4:11 - 4:17 "Walkin', you get to enjoy the scenery more than just drivin' on by. Spoiled children."
4:17 - 5:59 [Chris continues walking along the main road, looking reasonably smug and surprisingly not winded. A jumpcut reveals that he's now walking along U.S. Route 29, which in this section is a 4-lane dual carriageway with a median strip in the middle. Chris seems to be walking quite close to the edge of the road, as oncoming traffic appears to be uncomfortably close to his position next to the verge. He then proceeds to film the traffic for a while as he begins to approach a crossroads with a vehicle repair workshop visible nearby. He stops at the turning, then turns around to find that he just walked past a dog that had been killed by a car and thrown into the verge.]
5:59 "Hey lil' doggy." [Groan]
5:59 - 6:13 [Chris moves on, walking past the crossroads, but then hesitates and begins walking back towards the carcass.]
6:13 - 6:45 "Hmm. Did that thing have a tag I wonder? Okay I'm just checkin' at the neck... Doesn't have a tag." [Chris turns back to his original route, and resumes walking.]
[Groan] ..."Poor little animals just get turned in to Street Pizza. [Points camera towards the workshop] And that's where my car's been hangin' out thar. While the radiator had a hole in it!"
6:45 - 7:00 [Jumpcut to Chris holding the camera to face him. The sky is now overcast, and it's starting to rain.] "I'm singin' in the rain, just singin' in the rain. What a glorious feeling and I'm haaappy again. Yaaaay!!!"
7:00 - 7:15 [Jumpcut. The rain is heavier, audible in the background and puddles are visible on the surface of the road, but Chris doesn't seem to mind too much.] "It's raining, it's pouring, I'm enjoying it! In my face! In my faaaace! Yay!!"
Chris at the post office
Chris, though high-spirited, appears tired with heavy bags under his eyes, having finally arrived at the post office. He apparently mails out fan merchandise and picks up a package for himself.
Transcript
Hey everybody, guess what. I made it to the post office at the quarter at the four. Pm! It started raining when I was about half way through, but I made it. I'm wet, I'm alive, ima enjoyin' the hi-drayson.
[Chris goes about adjusting his Sonichu medallion, before awkwardly falling silent for a brief moment]
So, I'm shippin' a bunch of autographed photos out and I got a 'portan' package ta pick up.

Note: At the time of this videos upload to twitter, Chris was selling "self-designed Autograph Cards" on Ebay for the "low price" of $24.99 with autograph, or $9.99 for just the card with no autograph.
There was also a unique "CHASE VARIANT" of the card for $50:00 in which Chris references "the pickle" and something Chris calls "BadBear", which sold earlier that same day.
It is likely this is what Chris was bringing to the post office.
Walking back
Two brief videos of Chris walking back home.
Transcript
[Chris leaves the post office parking lot, then begins walking along the edge of a now-busy main road while singing]
Gray skies are gonna clear up... Put on a happy face.
[Unintelligible] you and look around... Put on a happy face.
Walkin' my way back home. Du du du du du.
Gonna get bananas and cookies at the grocery. Bapada beep boop!
[Jump cut, Chris films some cars on the highway]
Chris is back home
Chris returns triumphantly home. Lauding his accomplishment of this mild athletic feat, he buoyantly shows off his damaged shoes, then reminisces about his time at BronyCon. Chris concludes with some boasting of his endurance.
"
They've seen extensive walking and running... Oh yeah! So these will go down in history
"
In reference to his disgusting, worn-out shoes
Transcript
Hey, everybody I juuuust made it hoooooome. I walked every single step. Though I stopped at Taco Bell for a... little fo- little edibles. A little filling. A little good stuff. But, anyway, I walked the entire 2+ mileeeeees. Ooh, let's check my FitBit. Da-da-da da da-da!
[jitters camera around before pointing at his watch]
Whoo! 23,000! [chuckles]
Yep. Anyway, it'll be worth it to definitely- when I get to walk up to the... [smiles creepily] garage which is not far from here, pick up my car soon. Hmm... Actually, I have something else. I have this bag, uh, pair of shoes here that I was going to wear to the Grand Gallopin' Gala but these were the things that, like, "Sorry, it's against the dress code". It's not even cosplay? I had cosplay. I mean, I had frillings, and horn, and ears, and my cutie mark... And also, I'm definitely going to be using part of the recent donations to get a new pair of shoes, 'cause my right shoe... [pan to his shoe which is falling apart]
Look at that. Look at that. [pan back to Chris] But these shoes are gonna be legendary because... they've been on my- off and on my feet for months, they've seen extensive walking and running... Oh yeah! So these will go down in history along with the iconic shirts and my Vinyl Scratch skirt. I don't necessarily have a pair of jeans picked out for it, but it's like, I have plenty of pairs of jeans on that and it's the complete set so this is like... One, two, three pieces of a complete outfit. The complete ensemble for legendary status. So take from that what you will, it's all... AWESOME AS WE WANNA BE! And I will definitely be wearing my backup pair of shoes here for when I take my walk to pick up my car later. But, aside from that, I do thank y'all so much for... donating to help me in this emergency situation. And... ya... The money will be spent... to pay for the car... as well. That's all very good. I'm not cheating anyone! Everyone should know that by now! I'm direct, I'm honest, I'm sincerely kind, I'm awesome to hang out with... OK? [blows into his hand]
I'll be taking a shower in a little while. III'm only a little bit tired. It's like, I could go on for a while longer than now. YAAAAAAAAAAY!! Alright, so, thank y'all for your continued support... I'll talk to y'all later.
Sources