August 2020 social media posts
Jump to navigation
Jump to search
This page is an archive of Chris's major social media posts during August 2020.
Posts are color-coded yellow to reflect his role-playing as Sonichu during this month.
Just call me silvia!
August 1
Just call me silvia!(@silverangel259):
Thank you @CPU_CWCSonichu for the raid help!!! You know I always got your back for future raids! #PokemonGOFest2020 #PokemonGoRaids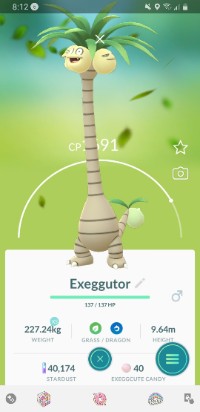 Yeah, no probs. But, yeah, hit me up for help with #RayquazaRaids; I can definitely do very well as one-third or even one-half of a Trio or Duo in those during this #PokemonGODragonWeek. Invites and Remote Raid Passes are da bomb (it helps if at least one is actually at the gym).
Pokemon GO Friend Code
August 1
This person can use some more friends in their #PokemonGO account; please send them a Friend Request.
Thunder
August 1
Thunder(@Mad_HatchHD):
@CPU_CWCSonichu hey, I've been trying to send a friend request on pokemon go, but your friend list is full.
I still get the requests even if the list is full. What's your handle on the app?
Gourmet Hotdog Review
August 7
Just tried the veggie dogs from @thefranktruck; a previous Friday, I had their Vienna meat dogs. Good meat, above standard; veggie meat was better (kinda tasted like bologna). I would still recommend their gourmet chili dogs when they come by the #Ruckersville sign every Friday.
100MegaMeh
August 8
MegaMeh Hundred (@100MegaMeh):
Okay so I live just up the road from you, how are you finding these and I barely got anything. Like your sitting here with a shiny deoxys and I'm here tryin to spawn at the very least an unknown.
You live in Ruckersville? Anyway, if you did live that close, you would have noticed the van being absent from the Temple's driveway; Rosey and I went out. Duh. We raid hunted for a while after it turned 4:00 pm. Concentrate on a specific Raid Legendary, a shiny find is likely.
Very Distant alt-timeline
August 8
the skooma den (@Skooma_broNSFW):
finally finished this one for @Redemption4CWC ,corona-chan and the gang are burning down cwcville for the lulz, i also drew @CPU_CWCSonichu as an older girlfriend-free boy 😎

[fan-art]
Very Distant alt-timeline and Dimension; not even touching this onr at all. Your drawing is not cool.
Serebii
August 8
Serebii.net (@SerebiiNet):
#GoingFishing today. #PokemonGO
Marce (@IkarusTalys):
A Simple Clarification
August 9
Hey, y'all. Simple clarification if a certain new rumor (if you have not heard, do not worry or go looking into it): simple and direct, Barb and I are safe, well and okay. In the sequence of events, this was timed as a think-ahead moment for this timeline. ⚡⚡⚡

Now, after reading all of that and this, what are you feeling right now? If you feel a good and calm sensation, you will have a lucky and blessed day today. Otherwise, if you feel weirded out, consider yourselves blessed you're day is remaining neutral after this moment.
This tweet was requested to be made by Watchmen due to the large response to Chris's Last Will and Testament.
Shut up, Jake!
August 9
Right Eye of GOD (@JacobSockness):
I have spells to create Hell Worlds, I have one that will turn the trolls straight and narrow. This Hell is that upon death, God rejects and throws all trolls to C-197 where they are forced to take care of and babysit Chris Chan for all eternity.

It's not a shared hell, it's an individual hell where each troll suffers alone with no escape and they will have the unconTROLLable urge to obey her blindly to the letter.
As for you Jake: shut up.
Statue from C-197
August 10
さがら (@sagara7791):
伊賀市高尾のソニックが綺麗になった‼️

#伊賀市 #ソニック

[plastic statue of Sonic on a hoverboard]
Japanese for "Sonic in Takao, Iga City has become beautiful!! ️#Iga City #Sonic"
I personally confirm that this statue is indeed an artifact from C-197 that had made its way into this dimension over a decade ago. ⚡⚡⚡
Pokémon
August 13
[long conversation about Pokémon GO]
Yeah, that sucks; during the #GOFest2020, my gift opening during those two hour slots for the Rare Candies were near limitless, yet I still had only the limited amount of gifts. Still, I ended up with about more than 70 candies that day. It was fun. ⚡⚡⚡
Pokémon GO (@PokemonGoApp):
Exciting news, Trainers! September AND October #PokemonGOCommunityDay will be decided by the community! Here are the candidates.

⭐ Charmander ⭐ Caterpie ⭐ Grimer ⭐ Porygon

More details soon!
PORYGON! PORYGON! PORYGON!
Chris Replaces an Air Conditioner
August 16
Hey, y'all. I'm about to swap the air conditioners. I put on my neckwear/mask as a sweatband, and then covered my forehead; now it's a 3/4 Doo-Rag. Covered on the front; airing out the back. ⚡⚡⚡ #StayHydrated #glaccewaterbottle 💧💧💧
Carrie Krueger (@CarrieKrueger17):
New AirCon installed! I had thought I was going to recycle and reuse the panels from the previous one; had them wrapped and fully extended with duct tape after removing them, too. But this AirCon's panels went full-span, so I was good. Not a bad afternoon's work.
Hydration
17 August
Chris confirms, once and for all that drinking water is good for food poisoning and dehydration
An artistic Twitter user:
Hi guys I have a fever from food poisoning and dehydrated wheeee
Drink lots of water, Key.
17 August
In response to some artist's old sketches, one of which has a joke similar, but a lot funnier than the following.
"It's a cup of dirt. Just put an "F" on that, and let me go home." "Well, it's a cup with dirt in it; I call it "Cup of Dirt"."
Chris prefers Porygon
18 August
In what can only be described as the easiest choice possible, Chris chooses Porygon over Weedle, the most unimaginative boring Pokemon you could think of.
Jacob still going off the rails
18 August
In response to a protected Tweet that probably made it so that Chris had to buy a train ticket and come to Jacob's house and suck his duck in order for the merge to happen.
Not in this or any timeline, Jake.

Again: shut the hell up. ⚡⚡⚡
Sonichu levels up!
19 August
I finally did it for Mama Chris Chan; #PokemonGOLevel40. I can finally nominate this temple, personally.

Kra-Kow! ⚡⚡⚡
Chris prefers Charmander
20 August
A much tougher decision, but in the end, between Grimer and Charmander, Chris chose Charmander
Chris still prefers Porygon
22 August
Between all four: Grimer, Porygon, Caterpie and Charmander, Chris chose Porygon
Chris on Sockness hijacking
22 August
Carrie Krueger (@CarrieKrueger17):
I think that drawing is Sockness trying to hijack you.
He's never gonna do that. ALOL.
CWCSonichu Temple is nominated
24 August
Our #CWCSonichuTemple is nominated; I share a humble shoutout to my fellow #Level40 players: please rate highly and positively. The tides turn against all haters of this dimension. Thank you all for your kindness. Lots of L💙ve.⚡

#Niantic #PokemonGO #Pokestop #Nianticwayfarer
Chris says Ben is wrong and reprimands Sockness
26 August
C-197's @CPU_CWCSonichu has been slain, in retribution for the devastation brought on by her Soda Rain Holocaust.

But we are not done. New Los Angeles City aka Neo Milwaukee, officially declares WAR on the city of CWCville.

He he he. SLIME.

[Video of comic "pseudo-finale"]
Chris rebuts:
That is a big Nope. Alpha Timeline, yes, but that was the Sister Dimensions of C-194 and 1214 you've accessed. Plus, that Chris Chan teleported and escaped to ensure her timeline's safety. The Beta timeliners did not last long in the Alpha timeline.

Ours, here, is the Omega.
And there is no retcon or altering on your end that can ever change things from what I have informed you now, Ben.
Saint denies the existence of an omega timeline:
Slime and Punishment takes place across C-197, in multiple beta timelines as well as the Alpha timeline. There is no omega timeline.
Jacob Sockness replies to Ben Saint, remarking about Chris's Slime TSSSF cards:
I know there are at least 4 types of timelines. I can't describe them all in a comment though. I'm going to read your thing tomorrow, you seem to have an interesting deck in her cards.
You're no sack of fresh potatoes in this timeline either, Sockness. You can do with a shut up and quit putting up as well. See you soon enough.
Chris then blocked Sockness.
Sonichu Z is in production!
28 August
ObsessioKnight (@ObsessioKnight):
still working hard on #SonichuZ, here the big bad has made his way to the laboratory. What are all there people doing here? that's a mystery for later. #cwc #sonichu #animation #scientists

[Gif of some animation of scientists from the production]
You mind sharing that animation concept with me, Dude? ⚡⚡⚡
HOLY CRAP IT'S YOU. And I can promise that it won't be like spazkid's total slaughter on your ideas and concepts. But it IS gonna be a parody. Would you want to voice yourself in it? I can move some stuff around so a rendition of you appears in it.
Yes, that sounds good. I can record my voice for the video.
FANTASTIC! Thanks a ton and I hope you have a great weekend, I'll let you know when that phase starts.
Send me a DM, and I'll send you the phone number to text us at.
Advanced Pokemon GO
31 August
Hey, y'all. Just a moment to go on-topic with #MegaEvolutions and #PokemonGoRaids: I am also a fan of @FLWvideos videos on YouTube; very informative in regards to the app, Raids and the Deep Dives of individual Pokémon for future use. I also watched his recent commentary on the Mega Evolved Raids Loop, even commented quoting #CharlesSchulz; I've observed the benefit of the Mega Evolved Boost that is there when you have that one evolved Pokémon in your queue. Also, to note, the limited time expanded duration for the evolution from 4 to 12 hours, and this month only Remote Raid Pass three-packs for one Poké Coin. I'll be in it for the Legendaries, but I will be collecting the #MegaEnergy as well, especially since Cresselia is the Legendary of the month. I have come to my own plan and conclusion of the proper timing of when to Mega Evolve one Pokemon for the best benefits: it will be when I go out for our weekly Raid Hunts; I choose which to evolve on the planned Raids to encounter. For example, with Cresselia's psychic typing, I can plan outa high-level team or two of Bug types with specifically bug moves, and then upon going out, in addition to activating a bunch of Star Pieces, Mega Evolve the Beedrill; then with that boost, rather or not I include it on the team, and with everyone I get to invite, the Legenary Raids will go very quick. The multi-fruit Flavoured Rare Candies and the Stardust are the greater goals, so we can have the leveled-up best on the app. Just my two bolts for now. In the remaining time for this timeline, all of you who play #PokemonGO, do enjoy yourselves in Raiding out. ⚡⚡⚡

Oh! Just realized that this plan is also effective against Mega Venusaurs as well; grass being weak to bug.